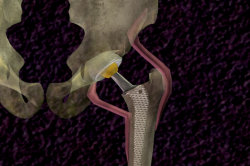 Hip replacement is an operation, where the diseased portions of the hip are resected (cut away) and replaced with man-made materials to form a new ball and socket joint. Hip replacement surgery is only considered in patients whose symptoms of hip pain have been poorly controlled and are affecting their quality of life.
Although hip replacement surgery, is a highly successful and common operation; patients still require an adequate pre-operative evaluation to assess their risks for surgery (and risk for the development of complications).
Typically the operation is performed under a general anaesthetic or an epidural / spinal anaesthetic. The operation last approximately 1 hour and patients normally stay in hospital for 3 to 5 days. Patients leave home walking with crutches and have generally recovered well 3 to 6 weeks after the operation, by which stage they are walking without crutches and without pain.